Ever Wondered How to Save Big on Your Home Loan? Discover the Power of Mortgage Points
Posted by David Lenoir on Monday, September 25, 2023 at 10:00 AM
By David Lenoir / September 25, 2023
Comment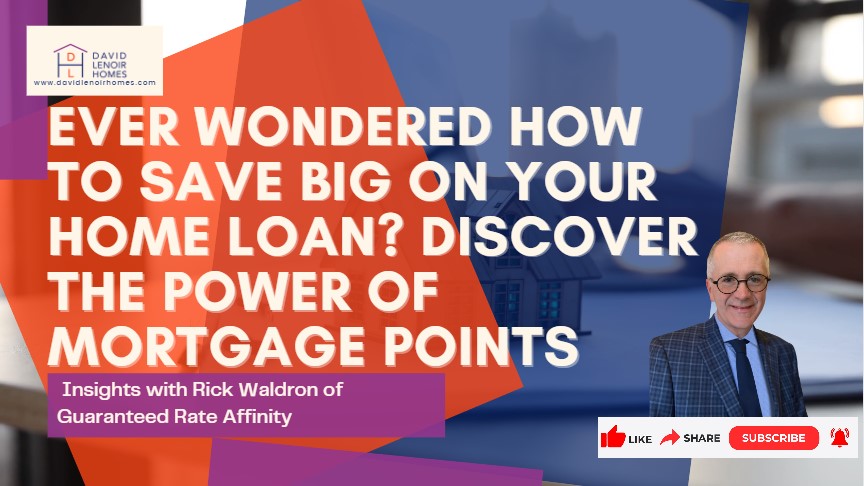 In today's blog, David Lenoir, a seasoned Real Estate expert in the Greater Boston Area together with Rick Waldron of Guaranteed Rate Affinity talk about mortgage points.
Mortgage points are charges that a borrower pays to a mortgage lender with the aim of lowering the loan's interest rate.
Rates are elevated right now and Rick often gets the question "Should I pay points as a mechanism to permanently buy down the interest rate?" One point is equivalent to 1% of the loan amount. So, if you're borrowing $500,000, 1 point is going to be $5,000.
The rule of thumb is for every point you pay, it will reduce the interest rate by a quarter percentage point. So you're essentially going to need to do the math to figure out how long you think that you're going to have your mortgage and is it worthwhile to pay that point? How long is it going to take to recover that cost?
And that point usually will be recovered in about five years time. So if you think you're going to have the mortgage for 5 years or greater, it's probably a good idea to consider paying points and permanently buying down that interest rate. Because your interest savings over the long term, beyond five years, will be significant.
Paying points is something that you pay as part of your closing cost. It is listed on your closing disclosure as an origination or a discount point.
Before deciding to buy points though, it's important to consider some factors and consult with a financial advisor or mortgage professional to determine if it's the right choice for you. Each individual's circumstances vary, and it's crucial to take into account your own financial objectives and the duration you intend to reside in your house.
Bottom Line
You can use mortgage points to your advantage to lower your mortgage interest rate and your monthly mortgage payment, which can result in significant savings over the life of the loan. It can also help you qualify for a bigger mortgage in future.
For more information, DM me or call 781-734-7098.
Also, check me out on my other site(s):
https://davidlenoirhomes.com/
https://Instagram.com/davidlenoirhomes
https://Facebook.com/DavidLenoirHomes
https://LinkedIn/in/davidalenoir
https://Twitter.com/DLenoirHomes
https://g.page/r/CVI9EdmjLZMpEAE
#MortgagePoints #HomeLoanSavings #homebuyers #firsttimehomebuyer #realestatetips #mortgage #financing #homeloan #realestate #realestategoals #listingagent #buyeragent #RickWaldron #GuaranteedRateAffinity #DavidLenoir #DavidLenoirHomes #ArlingtonMA #GreaterBostonArea #Massachusetts #realtor #realestateexpert