Financing Your Next Investment Purchase!
Posted by David Lenoir on Friday, June 23, 2023 at 8:00 AM
By David Lenoir / June 23, 2023
Comment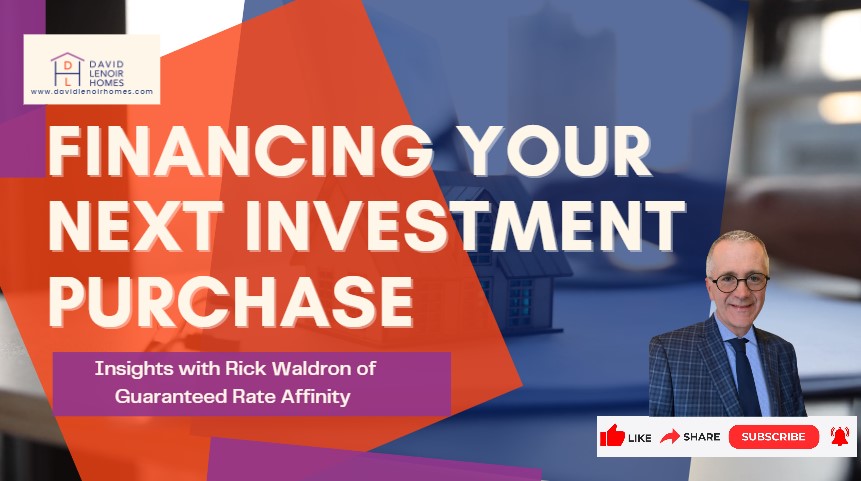 Are you an investor looking to buy some additional property but need more information about the financing behind it? In this blog, David Lenoir, a real estate expert from Coldwell Banker Realty discusses with Rick Waldron of Guaranteed Rate Affinity about what happens on the financing side if you want to buy an investment property.
David has worked with buyers who are also investors and noted that there are some different things that come up for the financing. An investment property is defined as a property that is not going to be occupied within the first 30 days, and it's not going to be a vacation type of home, so that would be classified as an investment or a non-owner occupied property.
These loans do require a higher down payment, there is a higher interest rate as well, but it is obviously for a long-term investment. The lender prepares an investment analysis to show investors what their overall return on investment will be over a five to seven to as much as a 10 year whole period.
So if anybody had a certain property in mind, should they first contact the lender to go through that analysis or before the offer stage? It usually goes in before the offer stage. That's kind of a highly detailed conversation that the investor and the lender will have.
Depending on the area, depending on what the current market rents are --- these data points are all factored into the investment analysis just to give them a rough idea what their return of investment will be over a certain amount of time or a whole period.
So it's a good idea if they see or identify a property, to act on it quickly so they can go through that analysis, and get something thorough to review and help them make informed decisions.
Bottom Line:
It's important to lean on experts regarding your investment purchase because they can help you understand the different financing options available to you and help you choose the one that best fits your needs. They can also help you understand the risks involved in each option and help you make an informed decision. Additionally, they can provide guidance throughout the buying process.
For more information, DM me or call 781-856-4350.
Also, check me out on my other site(s):
https://davidlenoirhomes.com/
https://Instagram.com/davidlenoirhomes
https://Facebook.com/DavidLenoirHomes
https://LinkedIn/in/davidalenoir
https://Twitter.com/DLenoirHomes
https://g.page/r/CVI9EdmjLZMpEAE