Housing Starts and Building Permits: What Home Buyers Need to Know
Posted by David Lenoir on Thursday, July 13, 2023 at 8:00 AM
By David Lenoir / July 13, 2023
Comment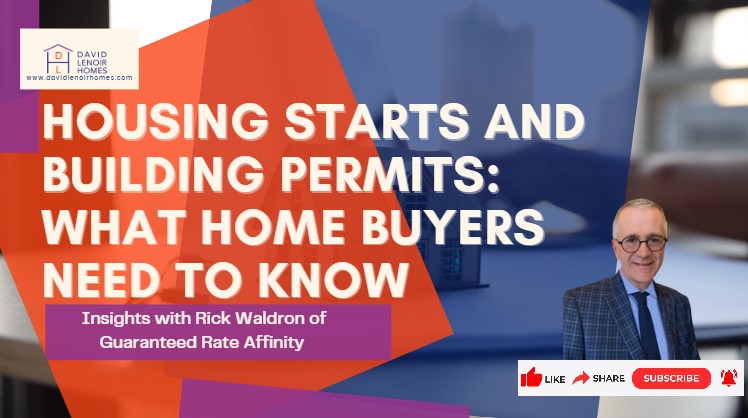 David Lenoir of Coldwell Banker Realty and Rick Waldron of Guaranteed Rate Affinity recently met to review the government's recently issued data on housing starts and permits. According to the U.S. Census Bureau and the U.S. Department of Housing and Urban Development, privately-owned housing units authorized by building permits in May 2023 were at a seasonally adjusted annual rate of 1,491,000. This is 5.2 percent above the revised April rate of 1,417,000, but is 12.7 percent below the May 2022 rate of 1,708,000.
Privately-owned housing starts in May 2023 were at a seasonally adjusted annual rate of 1,631,000. This is 21.7 percent above the revised April estimate of 1,340,000 and is 5.7 percent above the May 2022 rate of 1,543,000
What do these numbers mean for you? These are fantastic numbers. Builders are definitely feeling more confident. You can see it in these numbers. This is the biggest increase in three decades. But the good news here is that the future also looks bright as far as the permits, being up 5.2%. So not only are the builders breaking ground, they're also pulling permits for future projects as well. So those numbers certainly look very optimistic.
So we see the starts are breaking ground permits. They've actually issued the permits, and then completions, meaning stuff that's been done month over month. So we had a 9.5% increase versus single family homes, 3.9%. Now, the completions include, in fact, those general numbers as starts permit completion; those include condos, multi-family homes, whereas we've broken out just single-family homes data, just to kind of get a sense of that specific segment. The report includes everything --- it includes multi-family, these could be big, apartment buildings and things like that.
But if you just focus on single family starts, 18.5% annualized rate of 1 million units and single family completions are at 3.9%, it looks really very promising for the future, for at least more inventory coming on the market as soon as they can get everything completed soon. We desperately need the inventory and the fact that builders are feeling more confident in doing their part is great news.
Bottom Line
Housing starts and building permits measure new construction of privately-owned housing units. They are important indicators of the economy because it reflects the strength of the U.S. economy since new construction signals more jobs, higher salaries, and an abundance of loans to fund businesses and other endeavors . It also measures builders' willingness to expend resources on new projects, which in turn depends on their estimates of housing demand, so the trend in starts can also offer insights into risk appetite and consumer sentiment.
Don't miss this opportunity, let's talk and I'll help you make informed decisions about when and where to buy a home.
For more information, DM me or call (781) 734-7098.
Also, check me out on my other site(s):
https://davidlenoirhomes.com/
https://Instagram.com/davidlenoirhomes
https://Facebook.com/DavidLenoirHomes
https://LinkedIn/in/davidalenoir
https://Twitter.com/DLenoirHomes
https://g.page/r/CVI9EdmjLZMpEAE