How Could Future Mortgage Rates Affect You?
Posted by David Lenoir on Wednesday, March 8, 2023 at 8:00 AM
By David Lenoir / March 8, 2023
Comment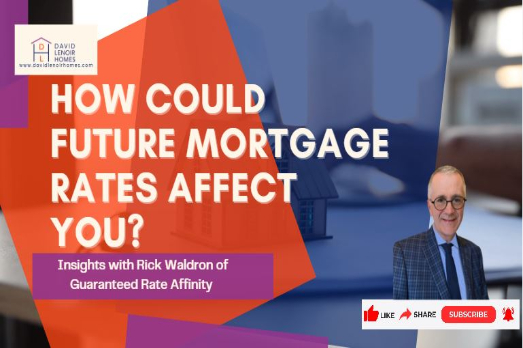 Are you wondering what the near future of interest rates will look like for mortgages and how they may impact either your home purchase or the number of buyers that are potentially in the market for purchasing your home? In this article Rick Waldron of Guaranteed Rate Affinity shares some insights.
Interest rates have recently started to go back up. They were trending down and we received a stronger than expected employment report a few weeks back that was followed by a CPI (a consumer price index, which is an inflation report) that showed inflation coming down for the seventh month in a row. However, it wasn't quite what the markets were expecting.
We've seen mortgage rates push back up, going into the next couple of months will be critical. We have another jobs report coming up in a couple weeks and that's going to be followed up by another Consumer Price Index Report.
And what exactly does get tracked in the Consumer Price Index report?
I think the Federal Reserve, their focus is more on what they can control, and that's called core inflation. So core inflation excludes food and energy, consisting of prices that consumers pay for goods and services. But one of the biggest components of the core inflation is shelter.
Shelter costs have been stubbornly elevated. Shelter costs are mortgage, rents, lodging away from home that make up 43% of the CPI. It's a lagging index, so in real time, there's signs that those pressures are easing, but year over year, they're still elevating.
The CPI is a really good indicator of housing costs, basically, because such a huge component of it is related to shelter.
Does it look then that mortgage rates are gonna be going down or up again? What is the relation?
We think because the shelter costs are a very lagging index and there are signs that those have been in real-time, coming down, we are kind of forecasting later this summer of 2023 that those numbers will look better, which will bring overall inflation down. So in the next couple of months, by the time you get into late spring 2023, early summer, you're going to start to see some really positive numbers coming out as far as inflation's concerned.
So basically, there's a correlation with inflation going down, the rates follow down. So that's one important reason why people follow CPI. Inflation drives long-term interest rates. So inflation is a very critical thing to keep an eye on if you're in the market for a mortgage.
Rick estimates that in late spring or more on the lines of summer 2023; rates are probably going to stay fairly stable for the next few months, and then they start to trend down a little bit as we get into the summer.
What we've seen is since late summer last fall, starting earlier this year, much higher rates, which has really kind of cooled down in some ways. I've recently noticed, as I've worked with my buyers this year, that seller's agents are making a point to follow up after showings. This is different from last year and indicates that agents are working a little harder to get their listings sold.
If rates are dropping potentially later on this year, then that's gonna pull more buyers into the market. So with more buyers, obviously more competition which will probably push up home prices again.
Rick says that inflation is definitely one thing to keep an eye on. We've seen last June inflation topped off at 9.1% and we've come down quite a bit, now at 6.5%. But, the Federal Reserve's target is 2%, so we still have a long way to go as far as the Fed's concerned. They're going to be very vigilant in pushing inflation lower, which means, potentially a couple more short-term rate hikes forthcoming, at least, the next two meetings of the Federal Reserve. The Federal Reserve meets every 6 weeks with their next meeting occurring next month. So it would be a good idea to monitor their decisions.
Bottom Line
Speak with me to get you started on the path to homeownership!
For more information, DM me or call 781-856-4350
Also, check me out on my other site(s):
https://davidlenoirhomes.com/
https://Instagram.com/davidlenoirhomes
https://Facebook.com/DavidLenoirHomes
https://LinkedIn/in/davidalenoir
https://Twitter.com/DLenoirHomes
https://g.page/r/CVI9EdmjLZMpEAE
#arlingtonma #massachusettshomes #realestateupdate #singlefamilyhome #multifamilyhome #condominiums #homeupdates #homeupdate #marketupdates #massachusettsrealestate #homeselling101 #homebuyingguide #realestatetrends #realestatecontent #homelistings #realeestateservices #homeownertips #equitymarket #realestatemarketingspecialists #davidlenoir #mortgage #guaranteedrate #guaranteedrateaffinity #davidlenoirhomes #greaterbostonhomes #bostonma