How Does a Bank Pre-qualify You for a Mortgage?
Posted by David Lenoir on Wednesday, March 22, 2023 at 11:30 AM
By David Lenoir / March 22, 2023
Comment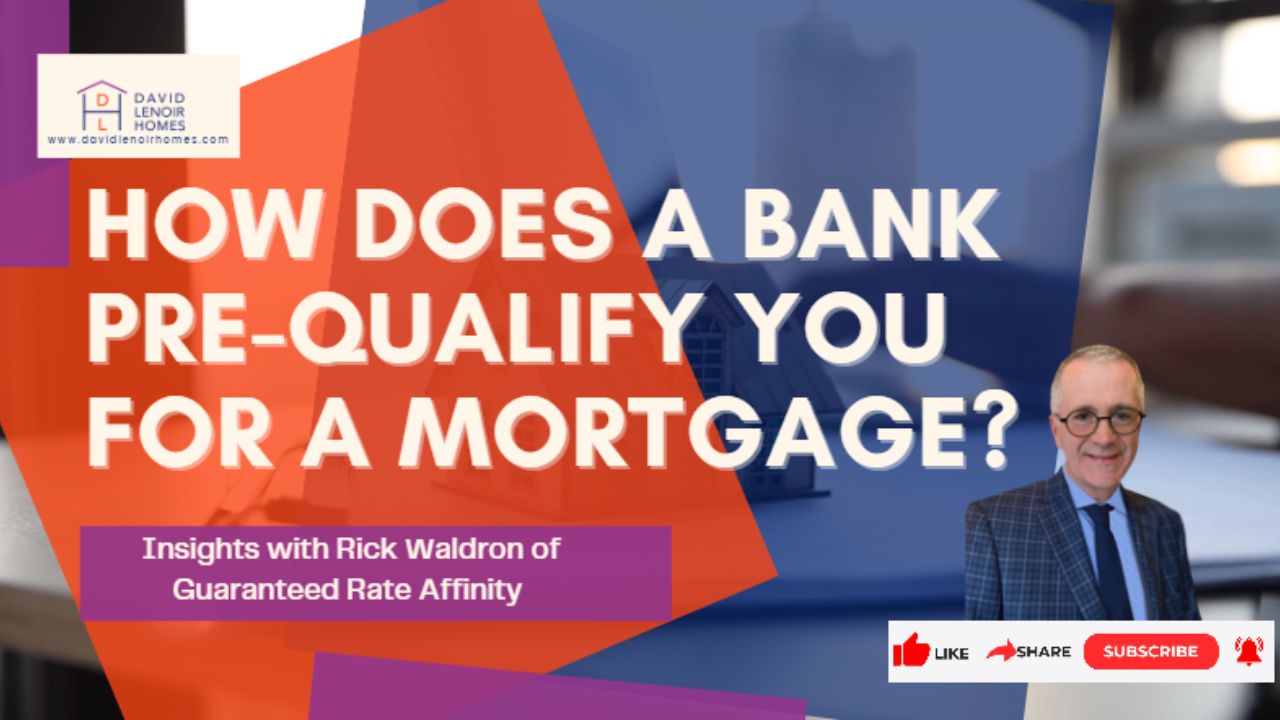 So as a first time home buyer, you may be thinking, "how do I actually get qualified or how does a bank qualify me?"
In this article, David Lenoir, Real Estate Agent in the Greater Boston, MA area talks with Rick Waldron of Guaranteed Rate Affinity. According to Rick, mortgage or lending companies qualify customers off of a 43% debt to income ratio (DTI). For example, if the client makes $120K annually, that's $10K a month multiplied by 43%, equals $4,300 DTI. What does that number signify? That number signifies the total monthly debt that the lender will allow them to carry, which would include the new mortgage payment consisting of principal interest, taxes, insurance, HOA, if it's a condominium; Plus all their other monthly recurring expenses.
So for this example, let's assume we have a client that has no debt, so that $4,300 can all be housing. If we subtract out a thousand dollars, for taxes, insurance and potentially an HOA, that's a $3,300 mortgage payment principal and interest. And that would equate based on current interest rates of about a $525,000 mortgage. So someone with no debt, who's making $120,000 a year could qualify for a mortgage of roughly $525,000.
So now that we kind of covered the very fundamental basics of debt to income ratio, what other information from the buyer would be helpful for lenders to know in writing up a pre-approval letter?
The debt services being referred to that are included in someone's DTI are any consumer debt that's going to show up on the credit report, e.g. student loan, an auto lease or auto loan, credit cards, personal loans, etc. However, there are other expenses to take into account.
So taking that same client with the $4,300 payment, although they have no other debt on the credit report, there might be other expenses that we don't see. For example, childcare or perhaps they like to vacation frequently. So it's important to have that conversation to find out, based on their own personal budget, what their comfortable spending per month is.
So adding all those other expenses will help provide a more solid picture of what that monthly number is for their payment. It's prudent for any client to do a kind of a residual income type of calculation to make sure that their budget is one that's comfortable. Maybe some of these expenses are not long term so they can take those into account, with the potential that incomes are going to rise to be able to grow into a mortgage payment. So there's a lot of considerations to be had in a conversation lenders should have with every client. As your mortgage lender is working on your pre-approval, just make sure you are providing them with as much information about your monthly expenses so they can be accounted for in your pre-approval.
Bottom Line
If you're a first-time homebuyer, understanding how lenders qualify you is critical to securing a mortgage that works for you. So take action and start the conversation with a trusted lender like Rick Waldron of Guaranteed Rate Affinity, and work with a knowledgeable real estate agent like David Lenoir to ensure you have a full picture of your financial situation. By providing your lender with as much information as possible about your monthly expenses, you'll be one step closer to getting pre-approved for a mortgage and on your way to achieving the dream of homeownership. Don't wait any longer, start the conversation today!
For more information, DM me or call 781-856-4350
---
Also, check me out on my other site(s):
https://davidlenoirhomes.com/
https://Instagram.com/davidlenoirhomes
https://Facebook.com/DavidLenoirHomes
https://LinkedIn/in/davidalenoir
https://Twitter.com/DLenoirHomes
https://g.page/r/CVI9EdmjLZMpEAE
#arlingtonma #massachusettshomes #realestateupdate #singlefamilyhome #multifamilyhome #condominiums #homeupdates #homeupdate #marketupdates #massachusettsrealestate #homeselling101 #homebuyingguide #realestatetrends #realestatecontent #homelistings #realeestateservices #homeownertips #equitymarket #realestatemarketingspecialists #davidlenoir #mortgage #guaranteedrate #guaranteedrateaffinity #davidlenoirhomes #greaterbostonhomes #bostonma #housingmarket #realestate #homebuying #mortgages #homeownership #homebuyingseason #springrealestate #housingindustry #homebuyers #homebuying #realestate #mortgage #homeownership #firsttimehomebuyer #financialplanning #debttoincomeratio #preapproval #mortgagelender #homebuyingtips