Is a Medical Profession Loan What You Need?
Posted by David Lenoir on Wednesday, July 5, 2023 at 9:00 AM
By David Lenoir / July 5, 2023
Comment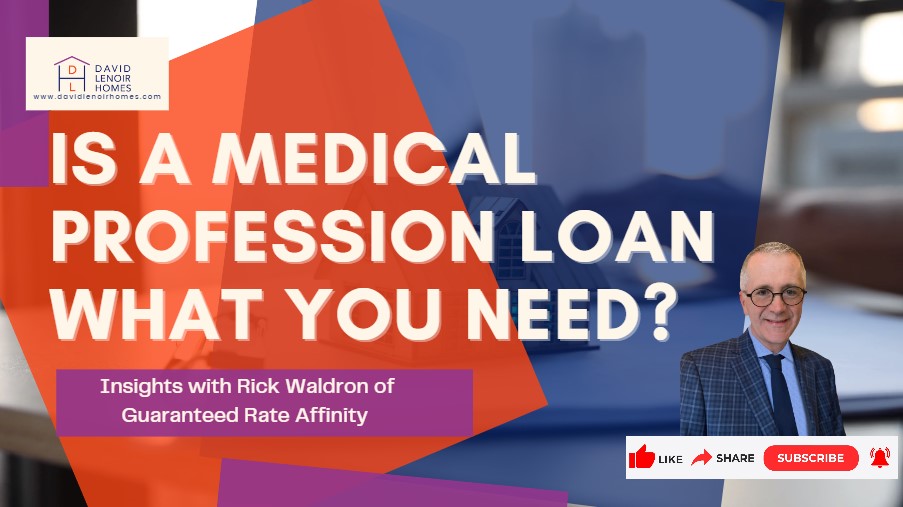 Are you a medical professional looking to get a mortgage for your next home? Rick Waldron of Guaranteed Rate Affinity and David Lenoir of Coldwell Banker Realty talked about a special program for people working in the medical field.
The medical profession loan is a product specific for anyone who is in the medical profession, for example, medical doctor of course, doctor of dental surgery, registered nurse, a veterinarian to name a few. The biggest advantage as to why someone might be looking at this product is the ability to finance more.
For example, up to 97% financing to a loan of 850,000. We can finance 95% to $1M and 90% to $1.5 million. This is a great opportunity for someone who may have a lot of student loan debt,etc. It is a great product offered by Guaranteed Rate Affinity.
Bottom Line
Medical professionals have unique financial needs and time constraints. Customized mortgages, known as Medical Professional Loans or Doctor Loans, are being offered by several banks and financial institutions to help medical professionals achieve their dream of homeownership.
To know more about requirements and eligibility, feel free to reach out to Rick Waldron.
For more information, DM me or call (781) 734-7098.
Also, check me out on my other site(s):
https://davidlenoirhomes.com/
https://Instagram.com/davidlenoirhomes
https://Facebook.com/DavidLenoirHomes
https://LinkedIn/in/davidalenoir
https://Twitter.com/DLenoirHomes
https://g.page/r/CVI9EdmjLZMpEAE