Making Informed Bids in a Competitive Real Estate Market
Posted by David Lenoir on Monday, July 24, 2023 at 7:30 AM
By David Lenoir / July 24, 2023
Comment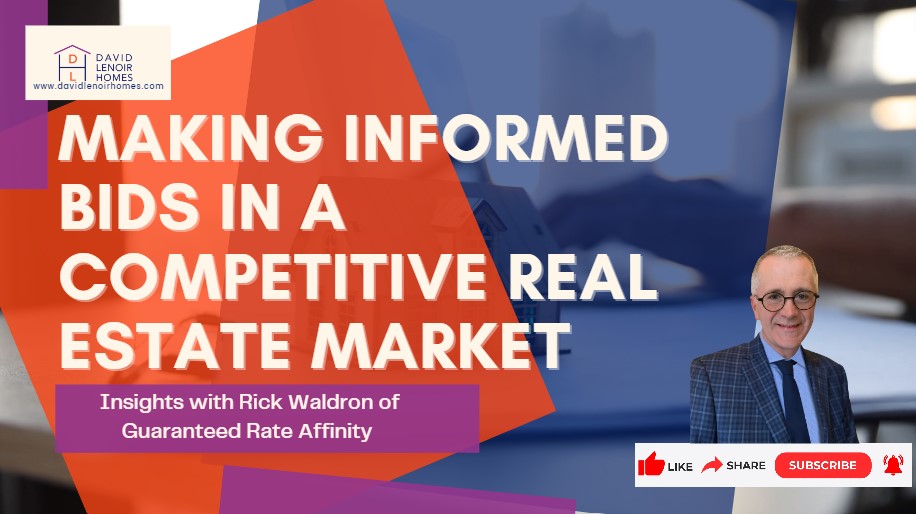 The real estate market can be highly competitive, with multiple buyers vying for the same property. In such a market, making informed bids is crucial for buyers looking to purchase a home. In this article, David Lenoir from Coldwell Banker Realty and Rick Waldron from Guaranteed Rate Affinity share some tips and strategies to help you win and achieve your dream home.
Did you know that currently, one-third of all home purchases involve bids above the asking price? This number is on the rise, as homes are being sold quickly, spending an average of just 18 days on the market. As a result, buyers looking to purchase a home face the dilemma of whether bidding above the asking price is a wise decision. The key to evaluating this is determining the breakeven point and considering future appreciation.
Thankfully, we have access to historical data and future forecasts for every market. Working together, we can provide you with a clear projection of the time it will take for the value of the home to reach your bid and also assess future appreciation. This approach ensures that your decision is based on solid data rather than emotions. The best part is we can accomplish this in just a matter of minutes.
Bottom Line:
It's important to have a strategy in place to make a winning bid. By understanding the local market, securing financing, and being prepared to move quickly, buyers can increase their chances of making a successful bid. Most importantly, you should lean on a seasoned real estate expert to help you make informed decisions.
Reach out to me today, and I will help you run the numbers.
For more information, DM me or call (781) 734-7098.
Also, check me out on my other site(s):
https://davidlenoirhomes.com/
https://Instagram.com/davidlenoirhomes
https://Facebook.com/DavidLenoirHomes
https://LinkedIn/in/davidalenoir
https://Twitter.com/DLenoirHomes
https://g.page/r/CVI9EdmjLZMpEAE
#realestate #homebuying #competitivemarket #winningbid #homeownership #realestatetips #firsttimehomebuyer #realestateadvice #homebuyingjourney #realestategoals #davidlenoirhomes #listingagent #buyeragent