Mortgage Tips for Your Condo Conversion!
Posted by David Lenoir on Friday, February 24, 2023 at 8:00 AM
By David Lenoir / February 24, 2023
Comment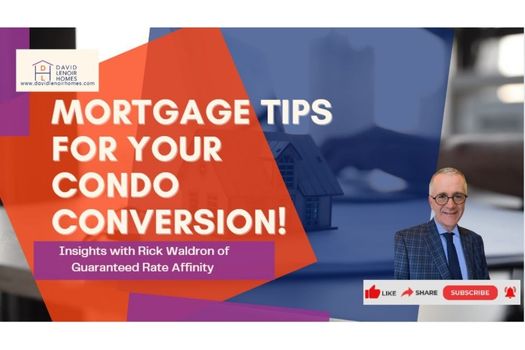 Are you a current owner or developer of a multi-family home and you're wondering what mortgage issues might arise for a condo conversion?
A variety of situations can come into play. For example, family owners may decide to convert their property and sell off both units; alternatively, they could choose to keep one for themselves. On the other hand, developers might buy a property with plans to renovate before selling off any additional units. Sounds straightforward and mainly involves legal paperwork when preparing the condo docs for the new association. However, there can be some "gotchas" when it comes down to selling off the new units.
What are some considerations?
When a Real Estate Agent meets with the seller to discuss listing their property, it's important to identify any possible liens that may be associated with the home. Ask if there is a first mortgage or maybe even second? Are there any open lines of credit with a balance. Are any back taxes owed to the city? Basically, any lien attached to the property will need to be paid off prior to closing. Developers should ensure they have obtained loans for renovations prior to presenting the house on market.
If the seller isn't planning on living in any of their units, they must decide if selling them one-by-one is enough to cover existing liens. Unfortunately, if not, simultaneous closure may be necessary since sufficient funds might not exist otherwise.
If the seller plans to reside in one of the units, they must consider if proceeds from selling one of the non-owner-occupied units will be enough to satisfy any existing mortgage(s) on the property. If so, no new refinancing is needed; otherwise, they would have to either make up the difference through savings or refinance the unit that they're going to occupy.
Bottom Line
It's just a question of determining if the current owner has any outstanding liens on the property and if they have money to pay those off in order to move forward with the sale. That's true for any real estate transaction --- all liens need to be satisfied prior to closing
For more information, DM me or call 781-856-4350
Also, check me out on my other site(s):
https://davidlenoirhomes.com/
https://Instagram.com/davidlenoirhomes
https://Facebook.com/DavidLenoirHomes
https://LinkedIn/in/davidalenoir
https://Twitter.com/DLenoirHomes
https://g.page/r/CVI9EdmjLZMpEAE
#arlingtonma #massachusettshomes #realestateupdate #singlefamilyhome #multifamilyhome #condominiums #homeupdates #homeupdate #marketupdates #massachusettsrealestate #homeselling101 #homebuyingguide #realestatetrends #realestatecontent #homelistings #realeestateservices #homeownertips #equitymarket #realestatemarketingspecialists #davidlenoir #mortgage #guaranteedrate #guaranteedrateaffinity #davidlenoirhomes #greaterbostonhomes #bostonma