Pending Homes Sales Increased in January but What Does That Mean for You?
Posted by David Lenoir on Wednesday, March 15, 2023 at 11:00 AM
By David Lenoir / March 15, 2023
Comment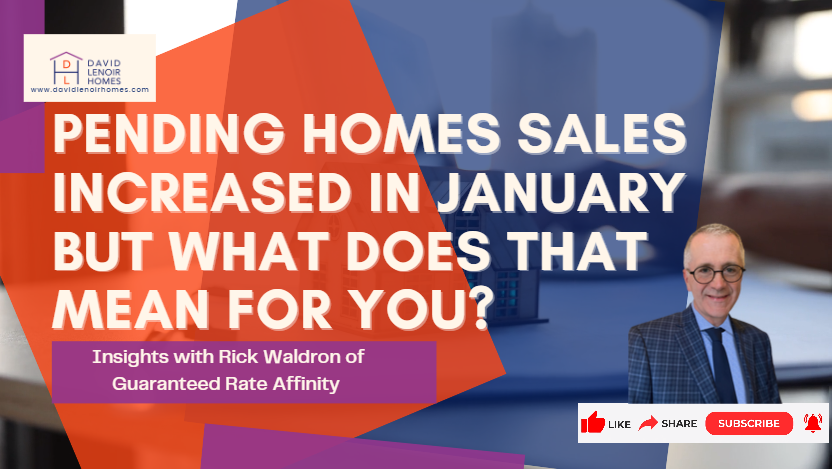 Pending Home Sales, which measures signed contracts on existing homes, rose 8.1% in January, which was much stronger than the 1% gain expected and follows a 1.1% rise in December.
Sales are now down 24% from last year, which is an improvement from -33% in the previous report. There was a considerable pick up in activity in January, which is not known to be a strong housing month, as rates moved to the low 6's.
We know that rates moved back up in February, following the Jobs Report, so we should prepare for the next release of this report to be weaker.
But the reaction from buyers as rates moved lower was clear. And remember we believe rates will improve following February Jobs report, which will be released on March 10, because it will likely be weaker and not have any of the adjustments we saw in the January report.
Additionally, on March 14, the next CPI report has a good chance to be Bond friendly (rates likely to come down), as the comparative numbers from last year falling off are much higher.
We also think the deflation in shelter costs such as rents will begin to catch up. As rates move lower, and with the spring home buying season coming, we expect activity to rebound nicely in the coming months.
Bottom line - Inventory is still going to be low, so buy now before rates decline and more of your buyer competitors step into the market.
For more information, DM me or call 781-856-4350
---
Also, check me out on my other site(s):
https://davidlenoirhomes.com/
https://Instagram.com/davidlenoirhomes
https://Facebook.com/DavidLenoirHomes
https://LinkedIn/in/davidalenoir
https://Twitter.com/DLenoirHomes
https://g.page/r/CVI9EdmjLZMpEAE