Renters, Don't Let the 20% Down Payment Myth Hold You Back from Homeownership
Posted by David Lenoir on Thursday, May 18, 2023 at 9:00 AM
By David Lenoir / May 18, 2023
Comment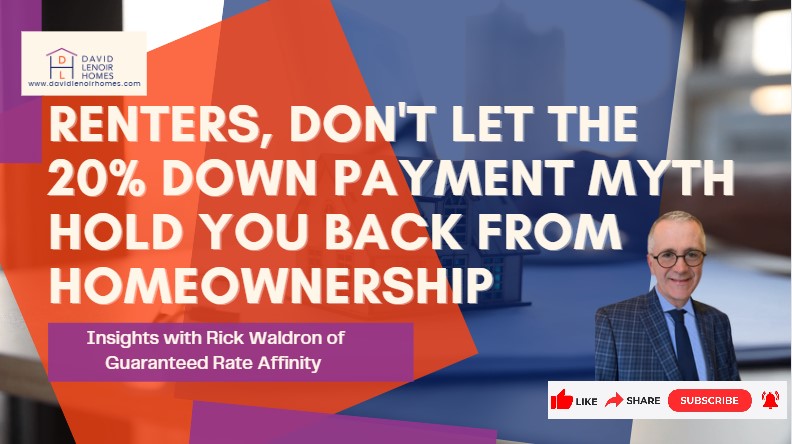 Are you a renter who dreams of owning your own home but believes that you need to save up 20% of the purchase price for a down payment? If so, you're not alone. Many renters believe this is the case, but the truth is, it's a myth.
As a real estate agent, I've noticed that one of the biggest misconceptions for renters is the amount of down payment needed to buy a home. According to the latest survey from the National Association of Realtors, only 11% realize that a home could be purchased with just 5% down, and about 45% believe that a down payment of around 20% is needed.
That's simply not true. There are a variety of loan programs available that allow you to put down less than 20%. For example, FHA loans only require a minimum down payment of 3.5%, and VA loans have no down payment requirement at all.
This misconception is holding renters back from becoming homeowners. A study by Apartment List found that two-thirds of millennial renters say they don't have enough saved for a down payment, but that's because many felt they needed to save 20% of the purchase price. It's essential to work with a trusted loan officer who can guide you through the process and help you understand your options.
As Rick Waldron, VP of Mortgage Lending at Guaranteed Rate Affinity, explains, "We want to make sure that potential homebuyers know that there are options available to them. It's more important than ever to consider homeownership as a way to build wealth."
And it's worth it! Renters who don't buy are getting left behind. The average homeowner has a net worth 40 times higher than that of a renter. And many millennials are already seeing this. For the first time ever, 50% of millennials are now homeowners.
Please share this article with your family and friends who may be renting and dreaming of homeownership. And if you have any questions or comments, please leave them below, and we'll be sure to get back to you.
Bottom Line:
Don't miss your chance to start building wealth through homeownership today. With a variety of loan programs available, owning a home is more accessible than many think. If you're a renter and want to start building wealth through homeownership, reach out to me or a trusted loan officer, and we'd be happy to help.
For more information, DM me or call 781-856-4350.
Also, check me out on my other site(s):
https://davidlenoirhomes.com/
https://Instagram.com/davidlenoirhomes
https://Facebook.com/DavidLenoirHomes
https://LinkedIn/in/davidalenoir
https://Twitter.com/DLenoirHomes
https://g.page/r/CVI9EdmjLZMpEAE
#arlingtonma #massachusettshomes #realestateupdate #singlefamilyhome #multifamilyhome #condominiums #homeupdates #homeupdate #marketupdates #massachusettsrealestate #homeselling101 #homebuyingguide #realestatetrends #realestatecontent #homelistings #realeestateservices #homeownertips #equitymarket #realestatemarketingspecialists #davidlenoir #mortgage #guaranteedrate #guaranteedrateaffinity #davidlenoirhomes #greaterbostonhomes #bostonma #housingmarket #realestate #pendinghomesales #homebuying #mortgages #interestrates #economicindicators #marketupdate #homeownership #investing #homebuyingseason #springrealestate #housingindustry #homebuyers #homesellers #financialnews #marketanalysis #economics #loanappraisal #buyingahome #sellingahome