Same-Day Mortgage
Posted by David Lenoir on Wednesday, June 28, 2023 at 9:00 AM
By David Lenoir / June 28, 2023
Comment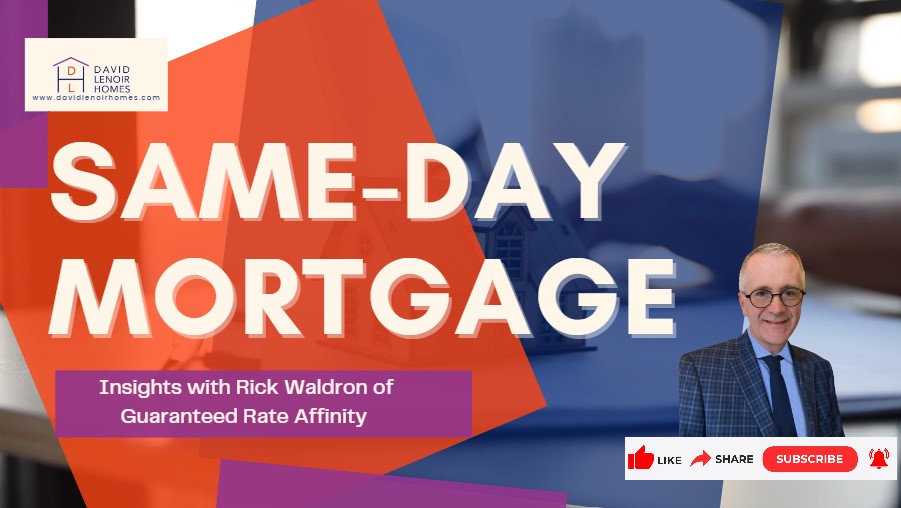 So I recently had an offer accepted on one of my listings, and the seller was very pleased to hear that we got an approval within five days of the offer. It's the Same-day mortgage program from Guaranteed Rate Affinity. It's a great program because it relieves a lot of the stress from the seller waiting for the financing to come through.
According to Rick Waldron of Guaranteed Rate Affinity, same day mortgage is a game changer, where buyers are approved in one day and it is possible to close within 10 days. The industry standard for clear to close is 30 days, but can be done in less than half that time.
Bottom Line:
With timely submission of required financial information and documentation, same-day mortgage allows qualified homebuyers to close on their loan and cut a check to the home seller in days, making them just as competitive as all-cash buyers. In the current fast-paced housing market, the speed at which you can close on your loan is crucial and may determine whether your bid is successful or not.
If you're looking for a knowledgeable and experienced real estate agent to help you navigate the competitive housing market, I'm here to help you find your dream home and guide you through the buying process. Contact me today to get started!
For more information, DM me or call 781-856-4350.
Also, check me out on my other site(s):
https://davidlenoirhomes.com/
https://Instagram.com/davidlenoirhomes
https://Facebook.com/DavidLenoirHomes
https://LinkedIn/in/davidalenoir
https://Twitter.com/DLenoirHomes
https://g.page/r/CVI9EdmjLZMpEAE