Streamlining Real Estate Transactions with Electronic Signatures
Posted by David Lenoir on Friday, May 26, 2023 at 9:00 AM
By David Lenoir / May 26, 2023
Comment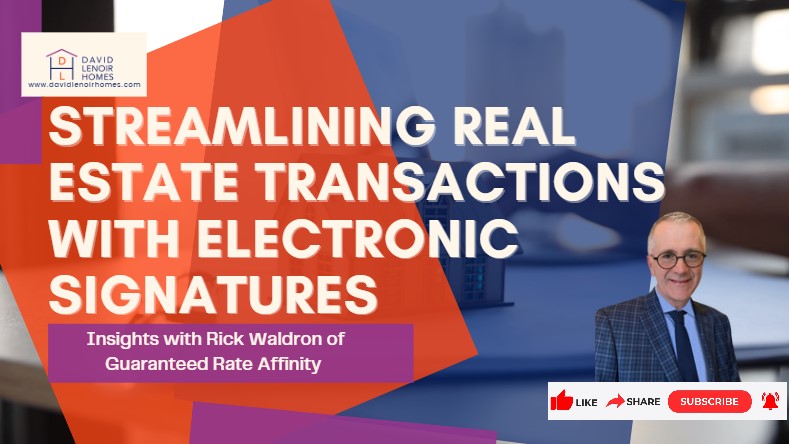 Electronic signatures are a secure, legal, and convenient alternative to traditional pen-and-paper signatures. David Lenoir of Coldwell Banker Realty and Rick Waldron of Guaranteed Rate Affinity, two experts in the real estate and mortgage industries, share their insights on the use of electronic signatures in real estate transactions.
In a real estate transaction, a lot of the required documents can be signed electronically. This saves a lot of time, eliminates many logistic problems of obtaining physical signatures and makes everything so much easier for buyers and sellers. This is particularly true for offer and listing documents.
However, some mortgage and closing documents must be notarized in person and require handwritten signatures.
Guaranteed Rate Affinity has helped with this issue by introducing the Flash Close? This gives a client the ability to grant e-consent upfront, which allows them to electronically sign the mortgage application and other disclosures such as the loan estimate and closing disclosure. But the actual physical closing itself, will be a hybrid closing. So on the day of closing, the client can log on and electronically sign the majority of the documents needed for real estate closing. The remaining items, for example the mortgage and the note documents have to be signed in person in front of a real estate attorney.
Before, closings used to take a considerable amount of time, actually blocking off a good chunk of your day. So being able to do a little bit more online now is much more realistic for people these days.
Why do some documents need to be physically signed in person? Currently, Massachusetts law requires certain documents to be notarized which must be done in person. However, Massachusetts has enacted a new law which allows for 100% remote notarization, which will allow documents to be notarized online and completely digitally, without requiring physical stamps and signatures. It's my understanding that law will be in effect on January 1, 2024.
Bottom Line:
Electronic signatures offer many advantages in real estate transactions. They provide speed and convenience as there's no need to wait for physical documents to be mailed back and forth. Imagine being able to sign contracts quickly from anywhere, anytime. That's what technology has made possible! Real estate transactions are now easier for everyone involved, as there's no need to coordinate in-person meetings to finalize the deal. Sign from your location with more accessibility and flexibility than ever before.
Are you looking to buy or sell a home? Don't navigate the complex real estate market alone! Contact David Lenoir of Coldwell Banker Realty today. With his expertise and experience, David can help guide you through the process and ensure a smooth and successful transaction. Don't wait, reach out to David Lenoir today and take the first step towards achieving your real estate goals!
For more information, DM me or call 781-856-4350
Also, check me out on my other site(s):
https://davidlenoirhomes.com/
https://Instagram.com/davidlenoirhomes
https://Facebook.com/DavidLenoirHomes
https://LinkedIn/in/davidalenoir
https://Twitter.com/DLenoirHomes
https://g.page/r/CVI9EdmjLZMpEAE
#electronicsignature #esign #arlingtonma #massachusettshomes #realestateupdate #massachusettsrealestate #realeestateservices #homeownertips #realestatemarketingspecialists #davidlenoir #mortgage #guaranteedrate #guaranteedrateaffinity #davidlenoirhomes #greaterbostonhomes #bostonma #realestate #pendinghomesales #homebuying #mortgages #marketupdate #homeownership #investing #homebuyingseason #springrealestate #housingindustry #homebuyers #homesellers #buyingahome #sellingahome