The Art of Negotiation: Mastering Closing Cost Credits in Your Home Purchase
Posted by David Lenoir on Wednesday, October 25, 2023 at 8:00 AM
By David Lenoir / October 25, 2023
Comment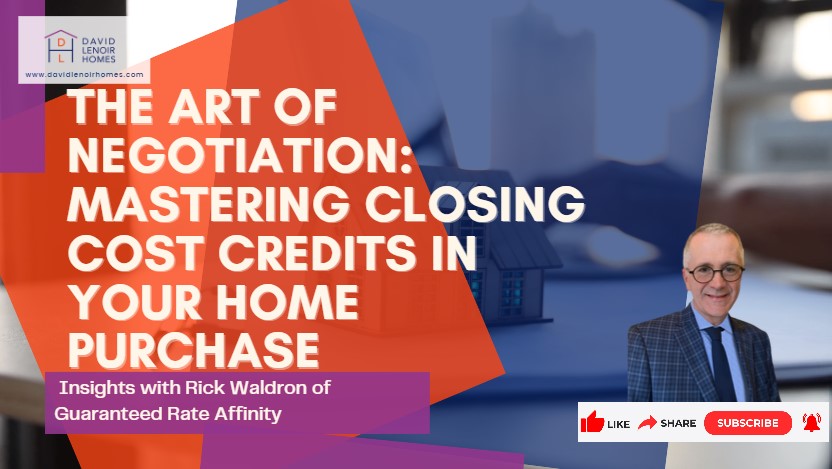 Are you a home buyer or seller who is in an offer situation and the question of closing cost credit comes up? Greater Boston Real Estate Expert, David Lenoir of Coldwell Banker Realty and Rick Waldron of Guaranteed Rate Affinity talk about interested party contributions and what it means if you're the buyer or the seller.
Interested Party Contributions (IPCs) are expenses that would normally be paid by the buyer. However, these costs are instead covered either directly or indirectly by another party who holds a financial stake in the property or has the power to affect the conditions of the sale or transfer of the property.
Although there are limits to these contributions. If we're talking about a conventional loan, a Fannie Mae or a Freddie Mac backed loan, if the buyer is putting less than 10% down, that seller contribution is limited to 3% of the purchase price. If the down payment is between 10% and 25%, that amount goes up to 6%. If the down payment exceeds 25%, the contribution can be as high as 9%.
IPCs vary according to the loan type. So these would apply for an owner occupied transaction. If it was being purchased as an investment, the contribution is 2%, whilst FHA allows for 6% and VA 4%.
Bottom Line
Interested Party Contributions (IPCs) play a significant role in real estate transactions. They represent costs usually borne by the buyer but are covered by another party with a financial interest in the property. While IPCs can ease the financial burden on the buyer, they also have implications on loan-to-value ratios and may necessitate additional costs like mortgage insurance premiums. Therefore, understanding IPCs is crucial for both buyers and sellers in real estate transactions.
For more information, DM me or call 781-734-7098.
Also, check me out on my other site(s):
https://davidlenoirhomes.com/
https://Instagram.com/davidlenoirhomes
https://Facebook.com/DavidLenoirHomes
https://LinkedIn/in/davidalenoir
https://Twitter.com/DLenoirHomes
https://g.page/r/CVI9EdmjLZMpEAE
#RealEstateInsights #InterestedPartyContributions #IPCsExplained #PropertyInvestment #RealEstateTips #homebuyers #realestate #realestategoals #lender #RickWaldron #GuaranteedRateAffinity #listingagent #buyeragent #DavidLenoir #DavidLenoirHomes #ArlingtonMA #GreaterBostonArea #Massachusetts #realtor #realestateexpert