Understanding Home Price Declines: Separating Fact From Fiction in the Media
Posted by David Lenoir on Friday, May 5, 2023 at 8:30 AM
By David Lenoir / May 5, 2023
Comment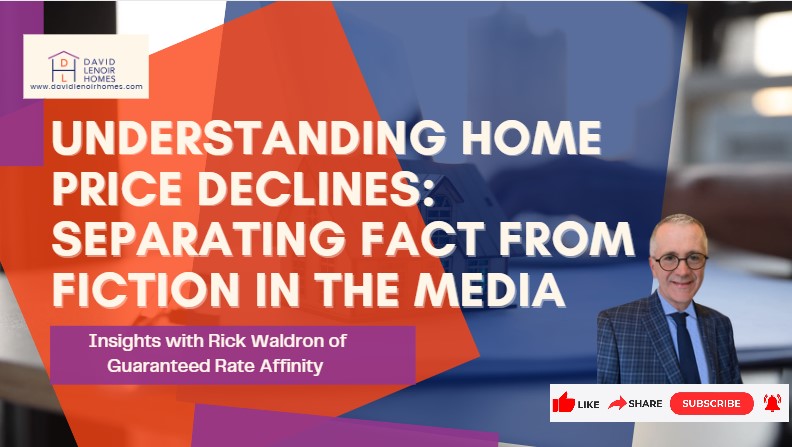 If you've been following the news lately, you may have come across headlines about home price declines in the Greater Boston area (which includes Arlington, Cambridge, Belmont, Lexington, Winchester, Medford, Somerville, and other towns in southern Middlesex County). But how concerned should potential homebuyers and sellers really be? To help separate fact from fiction, we spoke with David Lenoir, a Coldwell Banker Realty real estate agent with over a decade of experience in the industry and a deep understanding of the local residential real estate market.
In a recent conversation with Rick Waldron, the VP of Lending at Guaranteed Rate Affinity, David shed light on the recent headlines about home price declines. David and Rick emphasized the importance of focusing on the facts and avoiding giving in to fear.
First and foremost, it's important to understand that the decline in median home prices was only 0.2% on an annual basis. And even then, it's crucial to note that the median home price is not the same as actual appreciation. Rather, it simply represents the middle price point of homes sold.
According to the latest appreciation report from the Federal Housing Finance Agency (FHFA), home prices in the Greater Boston area rose 5.3% year over year. Similarly, Case-Shiller showed a 3.8% year over year increase in home prices. Case-Shiller is a widely recognized index that measures the changes in home prices in 20 major metropolitan areas across the United States. The index is considered a benchmark for measuring the overall health of the U.S. housing market. These are the two best ways to measure home price appreciation, so it's important not to get too caught up in median home price data.
David and Rick both stress that potential homebuyers should remain level-headed and not let sensationalized headlines discourage them from making a smart investment. Despite recent modest appreciation, home prices are expected to remain strong in the year ahead.
If you have any questions or concerns about home prices in the Greater Boston area, don't hesitate to reach out to David Lenoir. And feel free to leave your questions in the comments section below!
Bottom Line
If you're considering buying or selling a home in the Greater Boston area, don't let sensationalized headlines about home price declines discourage you. Read this article by top real estate agent David Lenoir and Rick Waldron of Guaranteed Rate Affinity to separate fact from fiction and make a smart investment.
For more information, DM me or call 781-856-4350.
Also, check me out on my other site(s):
https://davidlenoirhomes.com/
https://Instagram.com/davidlenoirhomes
https://Facebook.com/DavidLenoirHomes
https://LinkedIn/in/davidalenoir
https://Twitter.com/DLenoirHomes
https://g.page/r/CVI9EdmjLZMpEAE
#arlingtonma #massachusettshomes #HomeBuying #RealEstate #HomeSelling #BostonRealEstate #DavidLenoir #DavidLenoirHomes🏠 #RealEstateInvesting #HousingMarket #HomePrices #GuaranteedRateAffinity #SeparatingFactFromFiction #SmartInvestment #HomebuyingTips #HomeSellingAdvice #FHFA #CaseShiller #MedianHomePrice #HomeAppreciation #LevelHeaded #RealEstateInvesting #HousingMarket #HomePrices #RickWaldron #MortgageLending #RealEstateFinance #greaterbostonhomes #bostonma