Unlocking Home Dreams: The True Impact of Gift Money
Posted by David Lenoir on Thursday, October 19, 2023 at 8:30 AM
By David Lenoir / October 19, 2023
Comment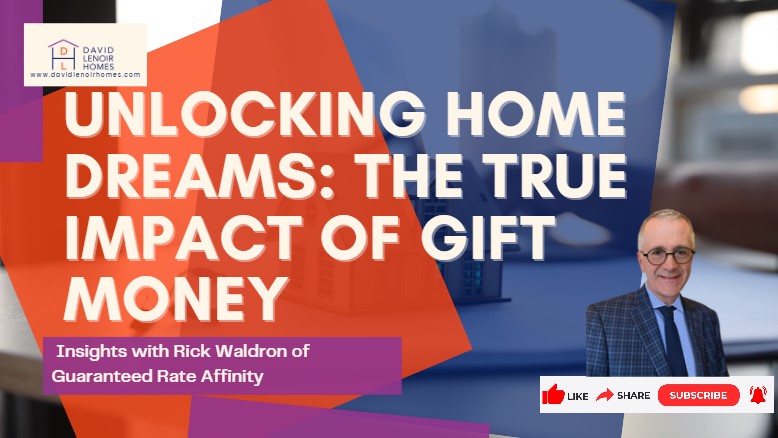 Are you a home buyer who is either having trouble getting pre approved for a mortgage? Or are you pre-approved but not at the amount that you'd like to be for the home that you want? Greater Boston Area Real Estate Expert David Lenoir of Coldwell Banker Realty and Rick Waldron of Guaranteed Rate Affinity delve into the world of home buying, explore the challenges faced by prospective homeowners in securing a mortgage and give insights around the concept of gift money.
In an era of rising interest rates and escalating home prices, we are witnessing an increasing trend where family members step in to assist home buyers. One such form of assistance is providing a gift towards the down payment. This process, however, requires proper documentation.
But that's not all. It's crucial for donors to consult with their tax professionals or CPAs to understand any potential tax implications.
Bottom Line
Gift money can be a viable solution for prospective home buyers struggling with high interest rates and home prices. This approach can help unlock the dream of homeownership, but it's crucial to navigate it with full knowledge and understanding. But don't let high interest rates or home prices deter you. Your dream home is within reach. Take that first step today!
For more information, DM me or call 781-734-7098.
Also, check me out on my other site(s):
https://davidlenoirhomes.com/
https://Instagram.com/davidlenoirhomes
https://Facebook.com/DavidLenoirHomes
https://LinkedIn/in/davidalenoir
https://Twitter.com/DLenoirHomes
https://g.page/r/CVI9EdmjLZMpEAE
#HomeBuying #GiftMoney #DreamHome #RealEstateTips #homebuyers #firsttimehomebuyer #Downpayment #realestate #realestategoals #lender #RickWaldron #GuaranteedRateAffinity #listingagent #buyeragent #DavidLenoir #DavidLenoirHomes #ArlingtonMA #GreaterBostonArea #Massachusetts #realtor #realestateexpert