Unlocking Mortgages: The Power of Co-Signers
Posted by David Lenoir on Wednesday, October 11, 2023 at 8:00 AM
By David Lenoir / October 11, 2023
Comment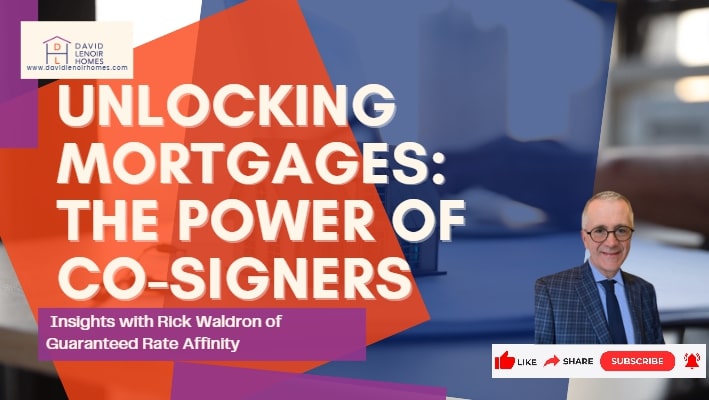 Are you a home buyer who's having some difficulty perhaps getting pre-approved or with getting pre-approved at a level for the house that you want? Greater Boston Real Estate Expert, David Lenoir of Coldwell Banker Realty and Rick Waldron of Guaranteed Rate Affinity discuss what the co-signer option is and how it can benefit homebuyers.
As interest rates have risen, home prices have risen., It's becoming more and more challenging for some homebuyers. Buying power has eroded, and we're starting to see more and more clients' approach with co-signers. So this could be a family member that's willing to co-sign the loan. That means that they will be liable on the mortgage. Their income will be used as well as the home buyer's income to qualify for a higher amount. And we're also using joint credit and liabilities as well. So the co-signer's liabilities, income, and credit are all used and all goes into the decision making once the loan goes through underwriting.
It does not necessarily mean though that the co-signer is also going to hold the title to the home. They're just liable as part of the mortgage. They will sign the note and therefore they will be liable for repayment of that loan going forward.
Bottom Line
A co-signer in a mortgage agreement is someone who legally agrees to repay the loan if the primary borrower fails to do so. This arrangement can help individuals with insufficient credit history or income to qualify for a loan. However, it's important to note that any late payments or defaults on the loan can negatively impact both the borrower and the co-signer's credit scores.
If you find yourself uncertain whether getting a co-signer is the best option for you, consult with a professional. Let's connect and we'll guide you throughout the homebuying process.
For more information, DM me or call 781-734-7098.
Also, check me out on my other site(s):
https://davidlenoirhomes.com/
https://Instagram.com/davidlenoirhomes
https://Facebook.com/DavidLenoirHomes
https://LinkedIn/in/davidalenoir
https://Twitter.com/DLenoirHomes
https://g.page/r/CVI9EdmjLZMpEAE
#CoSigner #MortgageAdvice #RealEstateTips #homebuyers #firsttimehomebuyer #mortgage #financing #homeloan #realestate #realestategoals #lender #RickWaldron #GuaranteedRateAffinity #listingagent #buyeragent #DavidLenoir #DavidLenoirHomes #ArlingtonMA #GreaterBostonArea #Massachusetts #realtor #realestateexpert