What Happens If Your Loan Does Not Appraise?
Posted by David Lenoir on Wednesday, April 12, 2023 at 8:00 AM
By David Lenoir / April 12, 2023
Comment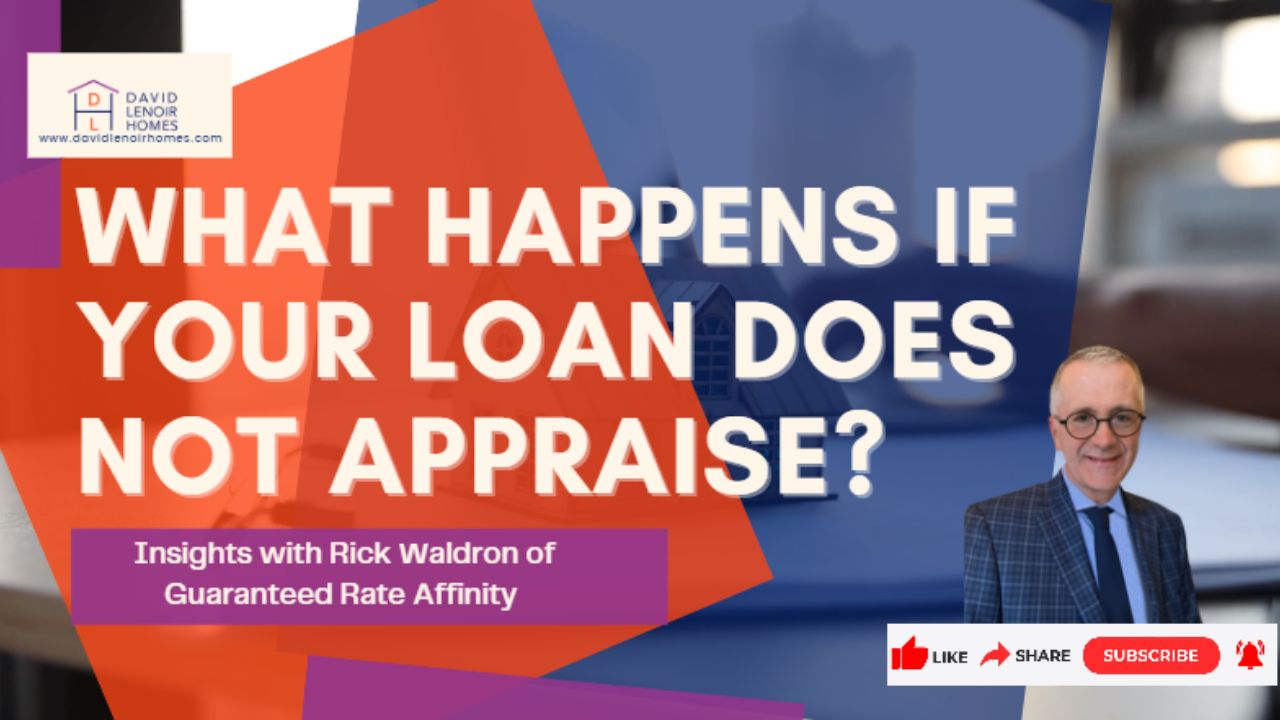 This is a common question that buyers and sellers ask, and it's important to understand the process to avoid any potential risks or negative consequences. David Lenoir, a real estate agent in the Greater Boston area, recently had a conversation with Rick Waldron from Guaranteed Rate Affinity to shed some light on this topic.
Buyers and sellers may get anxious when they see pre-approval letters with the phrase "subject to satisfactory appraisal," but it's actually a form of protection. It means that the buyer has been pre-approved for a loan, but the lender still needs to conduct an appraisal to ensure that the value of the home is sufficient collateral for the loan.
If the appraised value of the home is less than the loan amount, the loan does not appraise. This can happen even if the buyer has put down 20% of the purchase price. The collateral for the loan is the home itself, and if it does not appraise at the contract price, the bank will lend based on the lesser of the contract price or the appraised value. For example, if the contract price is $500,000, and the home only appraises at $450,000, the buyer would have to lower their loan amount to 80% of $450,000, which is $360,000. This means that the buyer would have to increase their down payment to $140,000 instead of $100,000.
There is a risk of the mortgage not getting approved due to appraisal issues. If the buyer does not want to move ahead as planned, they can renegotiate with the seller or come up with an additional down payment. Alternatively, the lender could provide financing above 80%, but this would come with additional costs such as private mortgage insurance. It's important to consult with an attorney to confirm your options in this scenario.
BOTTOMLINE
It's important for borrowers to understand that a loan not appraising can have serious consequences. Overall, as a real estate expert, I can be a valuable resource in navigating the complex process of a real estate transaction when a loan does not appraise.
For more information, DM me or call 781-856-4350
---
Also, check me out on my other site(s):
https://davidlenoirhomes.com/
https://Instagram.com/davidlenoirhomes
https://Facebook.com/DavidLenoirHomes
https://LinkedIn/in/davidalenoir
https://Twitter.com/DLenoirHomes
https://g.page/r/CVI9EdmjLZMpEAE
#arlingtonma #massachusettshomes #realestateupdate #singlefamilyhome #multifamilyhome #condominiums #homeupdates #homeupdate #marketupdates #massachusettsrealestate #homeselling101 #homebuyingguide #realestatetrends #realestatecontent #homelistings #realeestateservices #homeownertips #equitymarket #realestatemarketingspecialists #davidlenoir #mortgage #guaranteedrate #guaranteedrateaffinity #davidlenoirhomes #greaterbostonhomes #bostonma #housingmarket #realestate #pendinghomesales #homebuying #mortgages #interestrates #economicindicators #marketupdate #homeownership #investing #homebuyingseason #springrealestate #housingindustry #homebuyers #homesellers #financialnews #marketanalysis #economics #loanappraisal #buyingahome #sellingahome