What is a HELOC and How Can It Help You?
Posted by David Lenoir on Thursday, August 24, 2023 at 9:00 AM
By David Lenoir / August 24, 2023
Comment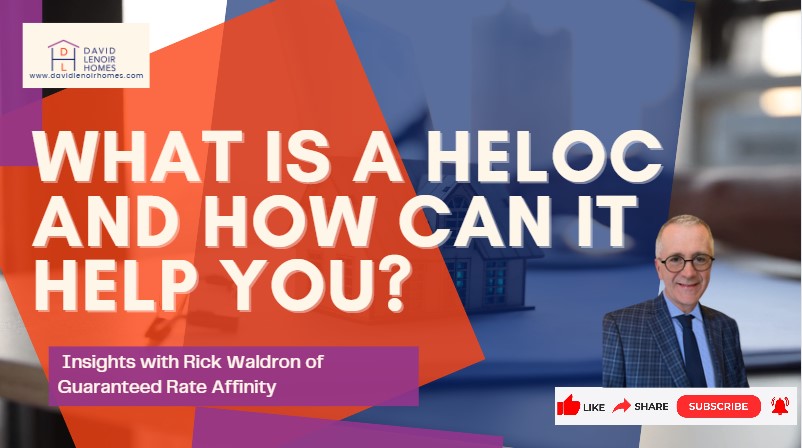 Do you currently own a home and are thinking about some options, maybe to tap into the equity of your current home to see if it can help you with the purchase of your next home? In this article, David Lenoir, a seasoned real estate expert in the Greater Boston area, discusses with Rick Waldron of Guaranteed Rate Affinity what is home equity line of credit (HELOC) and other options that you can do to utilize your home's equity.
Home equity is the value of a homeowner's financial interest in their home. It is the actual property's current market value less any liens that are attached to that property. The amount of equity in a house fluctuates over time as more payments are made on the mortgage and market forces impact the property's current value.
But how can we help people find money in their current home to help them buy the next one? According to Black Knight, in a recent report, the average equity in homes has risen from $231,000 to $249,000. Tappable equity is defined by retaining 20% equity in your home, which also increased from $185,000 to $199,000.
So is it an easy process to go through? You have to be underwritten, so the bank has to ensure that you can qualify. However, again, with current homeowners having as much equity as they have, that does help a lot in most cases.
Given that fact, the bank's only going to require a drive by appraisal. In some cases a full appraisal is required. But from verifying the actual collateral, it is a little easier. Because again, in most cases, just to drive by is required. They literally just drive by the house and take a look at it and appraise the property there.
The appraisal is something that the homeowner would pay, included in their closing costs, with the home equity line. Usually on a home equity line of credit in comparison to a first mortgage, the costs are lower. In some cases, the bank actually pays those costs for you.
It's a fairly straightforward process and worth checking out if you want to leverage your home's current equity to help pay a down payment on your next home.
You could use it as a bridge as well if you have an existing home equity line of credit. And you decided to purchase a new home. You could tap into the home equity line at credit, use that more or less as a bridge loan until the current home sells.
Overall, it's a really good opportunity, even if you're not moving right now. But ideally it would be a good way to check into your home's equity. Remember, you can always tap into your home's equity in case of an emergency.
Bottom Line:
Because HELOC is secured by an asset, it tends to have higher credit limits and much better interest rates than credit cards or personal loans, but the amount you can borrow depends on the equity you've built in your home. One of the many benefits of homeownership is if you have sufficient equity means you have access to money when you need it.
For more information, DM me or call 781-734-7098.
Also, check me out on my other site(s):
https://davidlenoirhomes.com/
https://Instagram.com/davidlenoirhomes
https://Facebook.com/DavidLenoirHomes
https://LinkedIn/in/davidalenoir
https://Twitter.com/DLenoirHomes