What You Need To Know About Conforming Loan Limits BEFORE mortgage shopping!
Posted by David Lenoir on Thursday, December 29, 2022 at 9:00 AM
By David Lenoir / December 29, 2022
Comment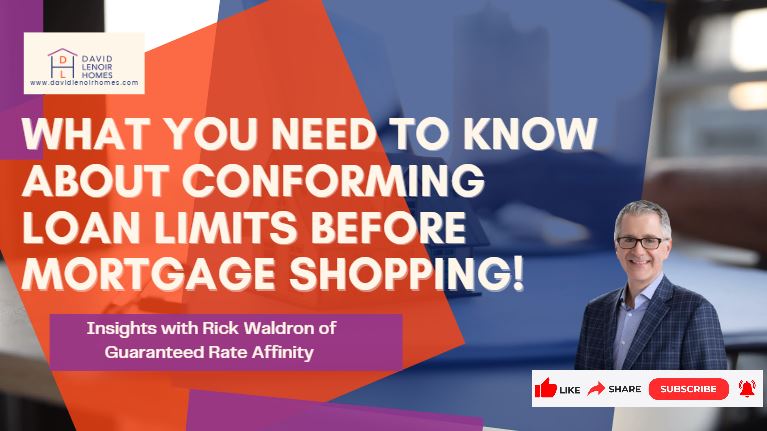 If you're considering buying a home in 2023, it's important to understand the conforming loan limits that could affect your mortgage.
Knowing what the upper limits are can help give you more options when shopping around for a mortgage and help ensure that financing is available within your budget.
The maximum loan limits for Fannie Mae and Freddie Mac have increased for 2023.
In response to rising property prices across the US, the federal housing finance agency has increased the standard baseline for single-unit homes to $726,200.
Last year, a buyer purchasing a high value home with an average down payment may only have had jumbo financing options. Jumbo loans typically have higher credit score and down payment requirements, lower debt-to-income, and sometimes less favorable pricing.
In addition, states with higher than average home prices like California, New York and Massachusetts are designated as high cost areas
And feature a higher baseline than the rest of the country. For example, here in Boston the high balance loan limit is $828,000.
All in all, this is great news for buyers looking to purchase a home in the near future. Be sure to consult with a mortgage specialist to see what kind of options are available to you.
For more information, DM me or call 781-856-4350
Also, check me out on my other site(s):
https://davidlenoirhomes.com/
https://Instagram.com/davidlenoirhomes
https://Facebook.com/DavidLenoirHomes
https://LinkedIn/in/davidalenoir
https://Twitter.com/DLenoirHomes
https://g.page/r/CVI9EdmjLZMpEAE
#arlingtonma #massachusettshomes #realestateupdate #condominiums #homeupdates #homeupdate #marketupdates #massachusettsrealestate #homeselling101 #homebuyingguide #realestatetrends #realestatecontent #homelistings #realeestateservices #homeownertips #equitymarket #realestatemarketingspecialists #davidlenoir #mortgage #guaranteedrate #guaranteedrateaffinity