What You Should Look for in a Pre-Approval Letter!
Posted by David Lenoir on Wednesday, September 13, 2023 at 8:00 AM
By David Lenoir / September 13, 2023
Comment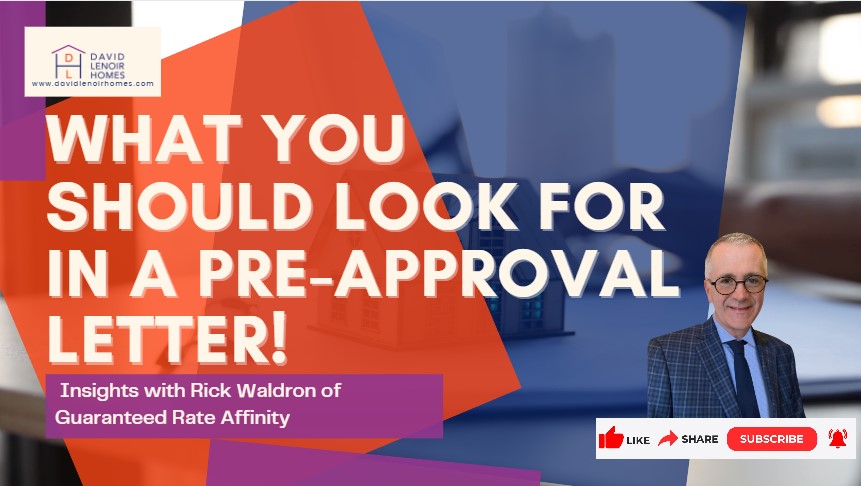 In today's article, David Lenoir, a seasoned Real Estate expert in the Greater Boston Area together with Rick Waldron of Guaranteed Rate Affinity share some insights on how to assess the pre-approval letters that come with an offer.
A pre-approval letter demonstrates to the seller that you have the financial support to purchase their home and that you are committed to the deal, which can assist you in making an offer.
As the listing agent, when he receives an offer, David typically calls up the lender to see what information they can share about the buyer, for example, if the buyer just went to some random mortgage company, entered a bunch of information, and then got a letter? Or was there a discussion with the bank, the mortgage lender specifically, meaning did they go over their assets? Did they go over employment history, taxes, credit score, etc. This way, David gets an idea of the strength of the offer. When David is the buyer's agent, he also sometimes asks the lender for their assessment.
So how does a lender support the buyers in the process? Most lenders these days have a digital mortgage application platform, where it's really quick, easy and painless. And when information is inputted, a credit report generally will be pulled, which will give the lender an idea of current credit rating. And the clients also, at that point in time, have the ability to upload supporting documentation, for example, assets, where is the down payment coming from? So uploading bank statements, recent pay stub, two years of W2s are needed. If self-employed, tax returns will be required, sometimes business and personal. Or at times, additional information beyond that, e.g. profit and loss statements, balance sheets, things of that nature.
There are different types of pre-approval letters. There are those where credit was reviewed, income was reviewed, assets were reviewed --- that might be the strongest type of letter.
Others will say that the preapproval letter is based on inputted information, so not necessarily verified. So when a listing broker is asking additional questions as mentioned above, they're being prudent and working in the best interest of their seller.
Bottom Line:
It's really important that when you get a preapproval letter, call the lender and have a real conversation to know what went into this pre-approval letter, in terms of credibility and reliability. That way your sales will avoid any surprises during the transaction once you go under agreement.
For more information, DM me or call 781-734-7098.
Also, check me out on my other site(s):
https://davidlenoirhomes.com/
https://Instagram.com/davidlenoirhomes
https://Facebook.com/DavidLenoirHomes
https://LinkedIn/in/davidalenoir
https://Twitter.com/DLenoirHomes
https://g.page/r/CVI9EdmjLZMpEAE