When should I get a pre-approval?
Posted by David Lenoir on Wednesday, February 1, 2023 at 8:00 AM
By David Lenoir / February 1, 2023
Comment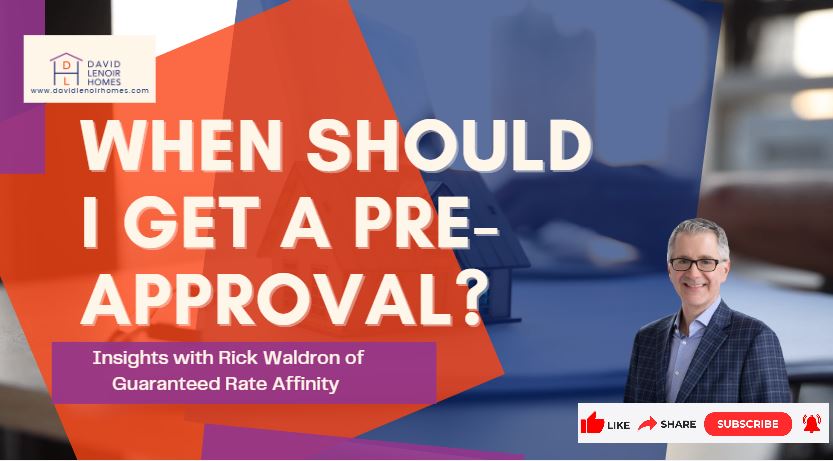 When should you get a pre-approval? Timing can be critical when the "right" house comes up.
Providing a mortgage pre-approval letter with your offer will let the seller know you have the financial means and backing to follow through on the transaction.
It also helps set a buyer's budget and reduces stress with advanced preparation.
Getting pre-approved too early in process may not be advised
Mortgage pre-approvals are valid for limited time, generally 30-90 day.
A credit check is required and generates a hard credit inquiry which typically causes a small drop in your credit score.
So, what exactly is a hard credit inquiry?
When a lender requests to review your credit report as part of the application, the request is recorded on your credit report as a hard inquiry. It usually impacts your credit score. Please contact a mortgage professional for details.
How long does it take to get a pre-approval?
It typically takes only 24-48 hours however if you're self-employed, have limited credit history or if clarification is needed on income/asset documentation, the process could take several weeks.
Bottom Line
Speak with a lender and have a discussion to gauge timing to obtain a pre-approval.
For more information, DM me or call 781-856-4350
Also, check me out on my other site(s):
https://davidlenoirhomes.com/
https://Instagram.com/davidlenoirhomes
https://Facebook.com/DavidLenoirHomes
https://LinkedIn/in/davidalenoir
https://Twitter.com/DLenoirHomes
https://g.page/r/CVI9EdmjLZMpEAE
#arlingtonma #massachusettshomes #realestateupdate #condominiums #homeupdates #homeupdate #marketupdates #massachusettsrealestate #homeselling101 #homebuyingguide #realestatetrends #realestatecontent #homelistings #realeestateservices #homeownertips #equitymarket #realestatemarketingspecialists #davidlenoir #mortgage #guaranteedrate #guaranteedrateaffinity