Where Are Home Prices Going in 2023?
Posted by David Lenoir on Friday, June 9, 2023 at 8:30 AM
By David Lenoir / June 9, 2023
Comment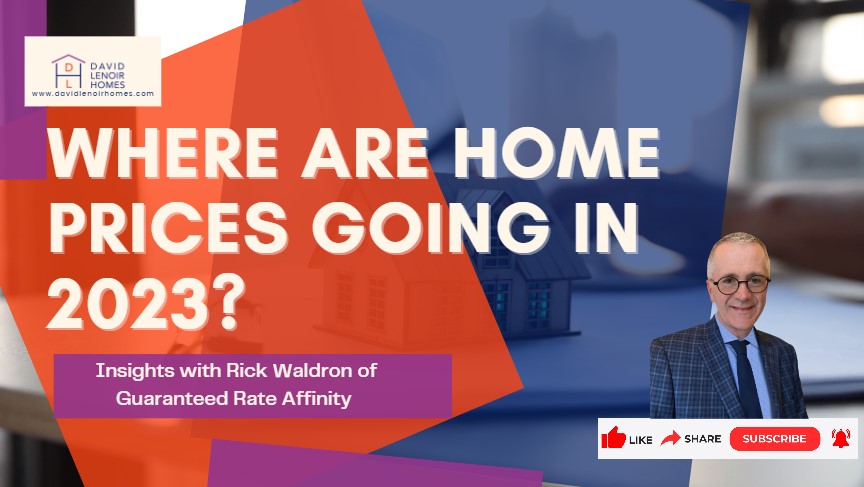 Should you hold off on buying or even listing your home for now because you're not really sure where pricing appreciation is going? In this article, David Lenoir of Coldwell Banker Realty and Rick Waldron of Guaranteed Rate Affinity share two data sources for housing numbers: one is Case-Shiller and the other one is FHFA.
The Case-Shiller Index is an economic indicator that measures the change in value of U.S. single-family homes calculated on a monthly basis and updated quarterly. It takes into account all transactions including conforming loans, jumbo loans, and cash transactions. And we clearly are seeing an uptick here again in appreciation for the month of March. This is a little bit of a lagging type of report, since it's a few months behind. However, for the month of March, appreciation was up 0.4% and that's compared to 0.2% previous month, which is February, and the year over year numbers, 0.6%. So we are seeing some good positivity there as well.
The second report FHFA Housing Price Index, that takes into account conforming loans only, is a broad measure of the movement of single-family house prices in the United States. These numbers are a little stronger compared to the Case-Shiller Index report --- 0.6% in the month of March compared to 0.7% in the prior month, and year over year, 3.6% appreciation nationally.
Our market here in New England, shows stronger numbers, 5.6% year over year. So regionally, we're doing very well.
Are there other data sources that people might be looking at as well to check the overall trend of the housing market?
We also look at Core Logic, Black Knight and Zillow. All of which are showing positive numbers to the upside. So if you are a buyer looking for a home, but everyone's telling you to wait, don't wait. If you're ready, get your pre-approval. And if you're a seller, there's going to be a lot of buyers out there, so go ahead and put your home on the market.
Bottom Line:
If you're ready, willing and able, consult with a local real estate professional in providing helpful information. Late spring and early summer are generally the best times to buy or sell a house. Let's connect so we can utilize these market dynamics and help you make informed decisions.
For more information, DM me or call 781-856-4350.
Also, check me out on my other site(s):
https://davidlenoirhomes.com/
https://Instagram.com/davidlenoirhomes
https://Facebook.com/DavidLenoirHomes
https://LinkedIn/in/davidalenoir
https://Twitter.com/DLenoirHomes
https://g.page/r/CVI9EdmjLZMpEAE
#homeprices #realestate #2023predictions #realestatetrends #homebuying #homeselling #propertyinvestment #arlingtonma #massachusettshomes #realestateupdate #singlefamilyhome #multifamilyhome #condominiums #marketupdates #massachusettsrealestate #homeselling101 #homebuyingguide #realeestateservices #realestatemarketingspecialist #davidlenoir #mortgage #guaranteedrate #guaranteedrateaffinity #davidlenoirhomes #greaterbostonhomes #bostonma #housingmarket #homeownership #springrealestate #housingindustry #homebuyers #homesellers #financialnews #marketanalysis #economics #buyingahome #sellingahome