Why Should You Embrace a 7% Interest Rate?
Posted by David Lenoir on Wednesday, September 27, 2023 at 8:00 AM
By David Lenoir / September 27, 2023
Comment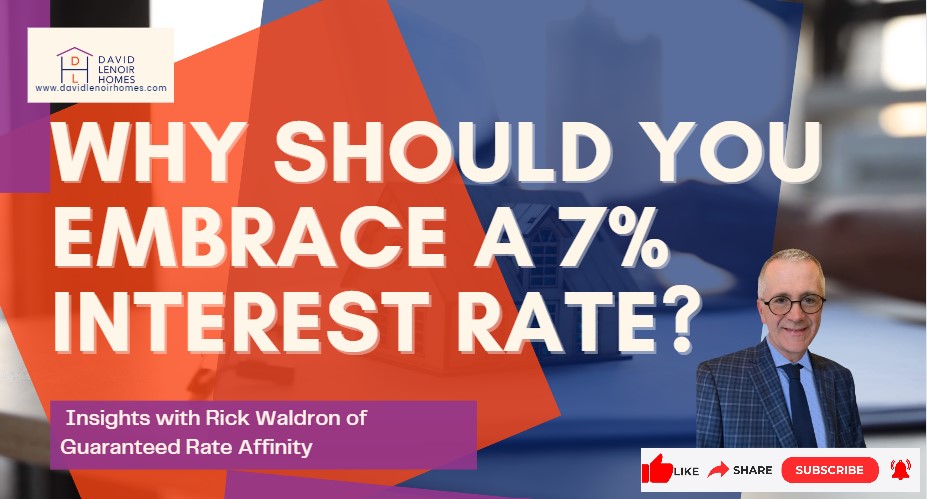 Don't let high interest rates dim your home buying dreams! Here's why it might be the perfect time to make your move! ✨
Less Buyer Competition: High interest rates often scare away some potential buyers, which means less competition for the home you've set your sights on. With fewer bidding wars, you may have a better chance of snagging your dream home at a more favorable price.
Downward Pressure on Sales Prices: Higher interest rates can sometimes put downward pressure on home prices. Sellers may be more motivated to negotiate and offer competitive deals to attract buyers in a market with higher borrowing costs. This presents an excellent opportunity for you to potentially secure a better deal and save some precious dollars!
Refinancing Flexibility: If you find yourself locked in at a higher interest rate, remember that you can always refinance when rates come down again. As long as your income and credit score remain strong, refinancing allows you to take advantage of lower rates in the future, potentially reducing your monthly mortgage payments and saving you money in the long run.
Variable-Rate Loans: Consider starting with a variable-rate loan if you're comfortable with a little uncertainty. Variable-rate loans can offer lower initial interest rates, providing you with the opportunity to save money in the early years of homeownership. As rates decrease over time, you can benefit without going through the process of taking out a new loan and paying closing costs.
Remember, high interest rates shouldn't completely put your home buying plans on hold. It's crucial to weigh the long-term benefits, your financial situation, and consult with professionals to make an informed decision.
If the time is right for you to embark on this exciting journey, don't hesitate! Let's make your dream of homeownership a reality. Drop your questions below or send a DM – We're here to guide you every step of the way!
For more information, DM me or call 781-734-7098.
Also, check me out on my other site(s):
https://davidlenoirhomes.com/
https://Instagram.com/davidlenoirhomes
https://Facebook.com/DavidLenoirHomes
https://LinkedIn/in/davidalenoir
https://Twitter.com/DLenoirHomes
https://g.page/r/CVI9EdmjLZMpEAE
#HomeBuying #InterestRates #RealEstateTips #HomeBuyersUnite #OpportunityKnocks #DreamHomeAwaits #homebuyers #firsttimehomebuyer #realestatetips #mortgage #financing #homeloan #realestate #realestategoals #lender #RickWaldron #GuaranteedRateAffinity #listingagent #buyeragent #DavidLenoir #DavidLenoirHomes #ArlingtonMA #GreaterBostonArea #Massachusetts #realtor #realestateexpert